Film di Montagna / Mountaineering Movies
1974, France, 90'
Images René Vernadet, avec Gaston Rébuffat, Edwin Mattews, Jean Juge, Konrad Krich, Lino Donvito, Massulu Suzuki et Christian Ringeval.
SOMMAIRE :
1. Introduction
2. Edwin Mathews : La Meije (Oisan)
3. Jean Juge : Traversée des Aiguilles de Chamonix
4. Lino Donvito : Torre di Valojet (Dolomites)
5. Massulu Suzuki : Arêtes de Rochefort (Massif du Mont-Blanc)
6. Christian Ringeval : Face Nord du Vignemale
7. Konrad Kirch : Grand Capucin (Massif du Mont-Blanc)
Les Horizons Gagnès - Gaston Rebuffat
1998, USA ,48'
Everest is a 70mm American documentary film about the struggles involved in climbing Mount Everest. It is narrated by Irish actor Liam Neeson and was filmed entirely in IMAX. The film centers on a team led by Ed Viesturs and includes the training and the challenges faced during the ascent. It was in production at the mountain during the 1996 Mount Everest disaster, in which another group of climbers became trapped by a blizzard near the summit. The film includes footage of these events, as the IMAX team assist Beck Weathers and other survivors.
Actors: Liam Neeson, Lhakpa Dorji, Dorje Sherpa, Ed Viesturs, Muktu Lhakpa Sherpa
Directors: David Breashears, Greg MacGillivray, Stephen Judson
Writers: Stephen Judson, Tim Cahill
Producers: Greg MacGillivray, Stephen Judson, Alec Lorimore
1953, Germany, 100'
Regie: Hans Ertl
Musik: Albert Fischer
Nanga Parbat 8126 m. was climbed for the first time in 1953,July3 by Austrian mountaineer Hermann Buhl, climbing as part of a German expedition -
including photographer and film-maker Hans Ertl - led by Karl Herrligkoffer, from
Rakhiot Flank, East Ridge. The expedition approached the mountain from north, this route being first explored by a German expedition in 1932. It was deemed as the only feasible line of ascent, despite some early exploration on the Diamir side (which has subsequently turned out to be the normal route).It's a long and complex route, covering a distance of 18km with a height gain of 4625m. Buhl sets out solo for the final attempt and spent 40 hours with a night bivouac at 8000 m. He took Pervitin (methamphetamine) during his solo climb to the summit and back. Pervitin had been very widely used by German forces during WWII. It staves off fatigue, reduces hunger and thirst, and reduces the need for sleep. Pervitin can induce self-confidence, euphoria and increased willingness to take risks. Buhl was also drinking coca tea, brought by Hans Ertl from Bolivia.
Year: 2005
Time: 50 min
Country: France
Camera-man: J. Bayol, Y. Chapron, B. Longo, P. Petit, C. Delachat, P. Berhault, P. Magnin, N. Fabbri
Director: Gilles Chappaz
Subject: The story of two climbers, Patrick Berhault and Philippe Magnin, scaling peak after peak(all 82 summits of more than 4000 metres, from Oisans to Bernina) on a quest that combines idealism and pleasure. But what counts most is their love of the mountains and their friendship.
Die weiße Hölle von Piz Palü, 1929

The White Hell of Pitz Palu is a silent mountain film co-directed by Arnold Fanck and Georg Wilhelm Pabst and starring Leni Riefenstahl, Gustav Diessl, Ernst Petersen, and World War I flying ace Ernst Udet.
The film is about a man who loses his wife in an avalanche while climbing the Piz Palü mountain, and spends the next few years searching the mountain alone for her body. Four years later he meets a young couple who agree to accompany him on his next climb. The film's poster is shown in the 2009 Quentin Tarantino film, Inglorious Basterds, as Shoshanna (Melanie Laurent) is taking down the marquee lettering from her theatre.
L'inferno bianco del Piz Palu', 1929
Titolo Originale: Berge in Flammen
Regista: Luis Trenker

Cast: Luis Trenker, Luigi Serventi, Lissy Arna, Claus Clausen
Durata: 109 min.
Florian Dimai è una guida alpina del sudtirolo che insieme ai suoi compaesani viene arruolato nel 1915 per combattere la Grande Guerra. Inviato prima in Galizia viene poi spostato sul fronte italiano proprio vicino al suo paese natio che nel frattempo è caduto nelle mani degli alpini italiani.Nascosti sui monti in una caverna forticata Florian e i suoi assistono impotenti al tentativo degli Alpini di minare l'area dove loro si trovano. Sarà proprio Florian che si incaricherà di scoprire con una missione rischiosissima quando gli italiani intendono dare fuoco alle polveri.
Titre : Premier de cordée
Réalisateur : Louis Daquin
Scénario : Jacqueline Jacoupy, Paul Leclerc
Dialogue : Alexandre Arnoux
D'après le roman de : Roger Frison-Roche
Photographie : Philippe Agostini
Musique : Henri Sauguet
Production : Pathé Cinéma
Genre : Drame
Durée : 106 minutes
Date de sortie : 23 février 1944
Production: Afa-Film AG
Script and Direction: Dr. Arnold Fanck
Camera: Sepp Allgeier, Richard Angst, Hans Schneeberger
Music: Paul Dessau
Actors: Leni Riefenstahl, Sepp Rist, Ernst Udet, Mathias Wieman, Friedrich Kayßler and others.
Length: 2,964 m
First performance: 25 December 1930
STÜRME ÜBER DEM MONTBLANC, 1930
Prix Città di Trento , Festival Internazionale Film Montagna, 1955

Gaston Rebuffat avec le violoncelliste Maurice Baquet

Scénario: Gaston REBUFFAT
Producteur: Gaston REBUFFAT-Georges TAIRRAZ-Maurice BACQUET
Réalisateur: Gaston REBUFFAT
Caméra/Photo: Georges TAIRRAZ
Montage: Gaston REBUFFAT et Georges TAIRRAZ
Commentaire (Textes): Gaston REBUFFAT
Voix off: Gaston REBUFFAT
Acteurs: Gaston REBUFFAT et Maurice BACQUET
Année de tournage: 1955
Durée: 90mm
Étoiles et tempêtes, 1955
Entre terre et ciel, 1961
Ce film de Gaston Rébuffat et Pierre Tairraz à obtenu le grand prix au Festival International du film de montagne et d'exploration de TRENTO en 1961.
Avec Haroun Tazieff et Gaston Rebuffat, la découverte des paysages sublimes du massif Alpin.
"Pour le guide, le Mont-Blanc, c'est son jardin, mais le jardin devient plus beau quand on le montre à un ami et que cet ami est pris au point qu'il désire non seulement l'admirer mais en connaître les secrets. Personnellement j'aime beaucoup les bivouacs ; là seulement on pénètre un peu le mystère de l'altitude. C'est pourquoi j'ai tout de suite accepté quand Tazieff a formulé le désir de passer la nuit au sommet du Mont-Blanc dans un igloo". (

Gaston Rebuffat

)
ANNEE DE TOURNAGE: 1960-1961

DUREE: 90mm
Le pilier de la solitude, 1959
Le pilier de la solitude (France, 1959, 22 min.)
par Hélène Dassonville et Pierre Tairraz
Recreation of the historical ascent of the southwest pillar of the Drus (the Bonatti Pillar), in the Mont Blanc Massif, by Walter Bonatti in 1955, a milestone in the history of alpinism.A 800 meters high vertical wall that Bonatti did solo over the course of six days with provisions for only three days. The hunger; the thirst; the discouragement that he took when he was stuck on the wall without being able to climb or descend; and the way he got out of this dramatic condition: that's the subject of the film and the story of this exceptional climbing. In the film, the notorious swiss alpinist Michel Vaucher plays the role of Bonatti.
The Man Who Skied Down Everest is a documentary about Yuichiro Miura, a Japanese alpinist who skied down Mt. Everest in 1970. The film was produced by Canadian film maker Budge Crawley.
Miura skied 6,600 feet (2000 m) in 2 minutes and 20 seconds and fell 1320 feet down the steep Lhotse face from the Yellow Band just below the South Col. He used a large parachute to slow his descent. He came to a full stop just 250 ft. from the edge of the crevasse.
In 2003, at age 70, Yuichiro became the oldest person to reach the summit of Mount Everest. The record has since been broken, but not the man. However, on May 26 2008, Miura once again successfully summited Mt Everest at the age of 75.
Released 15 Sep, 1975. 85 min. Directors: Bruce Nyznik, Lawrence Schiller. Documentary film.
The Man Who Skied Down Everest, 1975
El Capitan is a film by filmmaker Fred Padula that captures one of the earliest ascents of The Nose on El Capitan in Yosemite Valley, California.
​The film follows three climbers as they do the 3000-feet (900 m) vertical ascent of The Nose, the classic first big-wall climb on El Capitan.
​Most of the filming was done over a 6 week period probably in 1969 (possibly 1968 or 1970).
Emilio Comici the Angel of the Dolomites
(circa 1938​)
This rare film captures Emilio Comici 1901-1940, the Angel of the Dolomites, one of the greatest Italian climber.
​The video offers an insight of his "dancing" style at a time when the leader could not fall (the rope wouldn't hold it, and there is the small matter of those unsecured belays to consider as well). It also offers a tribute to one of the great pioneers of the sport.
On February 2, 2011, Simone Moro, Denis Urubko and Cory Richards became the first who climbed Gasherbrum II 8035mt. peak in winter! Cory Richards is now the only American to summit any 8,000 meter peak in winter. The journey nearly killed them. Cory carried a small camera and filmed the ordeal constantly.
THE WIZARD's APPRENTICE, 2012
The film is the fruit of two years' filming following Adam Ondra, an exceptional Czech climber born in 1993, who has successfully participated in climbing and bouldering competitions, as well as rock climbing. Given his extraordinary results in competitions and on rock faces, he is considered to represent one the future protagonists of climbing. . He won the Salewa Rock Award in 2008, 2010 and 2011. The award is given to the man or woman who has made the biggest mark in the previous season in the field of rock climbing or bouldering. The film is intended to be an all-encompassing portrait of a boy who is both normal but at the same time special and whose success has changed the parameters of vertical climbing.
​Regia Petr Pavlicek
​60° Trento Film Festival 2012
The Asgard project is top climber Leo Houlding's ambitious expedition to make the first free ascent of Mt Asgard's daunting north face – regarded as one of the most difficult big walls in the world.
​Mt Asgard is one of the most spectacular peaks on Baffin Island. The northeast peak is a 1200-m vertical rock climb.
​To reach Mount Asgard, Houlding, with fellow top climbers Sean 'Stanley' Leary and Carlos Suarez, learn how to fly in a wing suit. The plan was to leave the scene of their conquest via a wing suit.
​UK, 2009 / 68'
Director Alastair Lee
Posing Production​​
Ginat route, les Droites, Ueli Steck solo video
In January 2010 Ueli Steck soloed the Ginat route (ED,V, M4+, 85°, 1000m) up the North Face of Les Droites in 2:08.
Ueli Steck was up to his old tricks once again, climbing the classic Ginat route on the North Face of Les Droites (4001m) in a mere two hours and eight minutes. This is an absolutely gob-smacking time for these 1000m high above Chamonix climbed by "the fastest man in the Alps" who had set off "to have fun" and who was, according to the man himself, not fully acclimatised...
Les Droites, Ueli Steck solo speed climbing, 2010
A team of three men ascend a rock wall on Southern California's Lily Rock above Idyllwild. The various climbing techniques are explained, as well as the dangers one encounters in this sport. We also see the team rappel from the summit. A second team, used for comic relief, has nothing but problems. It ends with a climber jumping off the summit to the horror of climbing partners, only to deploy a parachute hidden in his pack, being this the first filmed BASE jump ever.
​Director: Willard Van der Veer
Der weisse Rausch (The White Ecstasy) is a 1931 German mountain film written and directed by Arnold Fanck and starring Hannes Schneider, Leni Riefenstahl, Guzzi Lantschner, and Walter Riml. The film is about the skiing exploits of a young village girl (played by Riefenstahl), and her attempts to master the sport of skiing and ski-jumping aided by the local ski expert (played by Schneider). Filmed on location in Sankt Anton am Arlberg, the film was one of the first to use and develop outdoor film-making techniques and featured several innovative action-skiing scenes. Two Tyrolean skiing stars, Walter Riml and Guzzi Lantschner, have important parts in this movie. They play two Hamburger carpenters in their traditional outfits. They come to the Arlberg and try to learn how to ski with the aid of two different skiing books. A Weisse Rausch downhill race, based on the film, is held every April in St. Anton.
In the summer of 1968 three men - climber and surfer Yvon Chouinard, climber and skier Doug Tompkins, and champion skier Dick Dorworth - set off from California in an old van to surf, ski and climb their way down to the southern end of Argentina where they met up with a young British climber, Chris Jones. Their goal was to climb a mountain that had been climbed only twice before: Cerro Fitz Roy.
​Little did they know, this journey would not only have a tremendous impact on their own personal lives, but would also help launch a movement by inspiring many other outdoor lovers, as well as set the tone for many future expedition/adventure films and documentaries.
​Mountain Of Storms was shot on a 16mm Bolex (drool Charles Bergquist) by Lito Tejada-Flores, and is narrated by Tom Donahue.
Featuring: Chris Bonington, Martin Boysen, Mike Burke, Ian Clough, Nick Escourt, Tom Frost, Dougal Haston, Mike Thompson, Don Whillans
Director: John Edwards

Duration: 55 minutes
Released: 1971
This film documents the first ascent of the very difficult South Face of Annapurna, a huge Himalayan wall.

In 1970 it was one of those breakthrough ascents - both technically and psychologically. Chris Bonington assembled the cream of British mountaineering and American Tom Frost for the attempt. The summit triumph leads to unexpected tragedy, the death of Ian Clough from an avalanche.
Best Climbing Film -- Trento Mountain Film Festival 1971.
The Hard Way - Annapurna South Face,1970
Director: Pierre Saloff
​
​In1979, Patrick Vallencant skied the west face of Peru's Yerupaja 6.635 m. Lou Dawson describes the route as "Possibly the continuously steepest mountain ski descent ever done." Incredibly, Vallencant's descent was filmed, and that footage was made into a documentary called "El Gringo Eskiador."
Cerro Torre - A Snowball in Hell's Chance, 2013
Director: Thomas Dirnhofer
Stars: David Lama, Peter Ortner, Jim Bridwell
​Set against the backdrop of breathtaking Patagonia, David Lama, the Austrian-Nepalese youngest climbing world champion, sets out to climb an unfathomable route on Cerro Torre in Patagonia, a mountain once said to be the most difficult in the world.
​In 24 hours, David Lama does the first free ascent of the Compressor Route (South-East Ridge) of Cerro Torre with Peter Ortner. The route was subject of much controversy after two other climbers, American Hayden Kennedy and Canadian Jason Kruk, removed many of Maestri's bolts some days before Lama's ascent.
Lama estimated the difficulties of his free ascent (which followed a new line circumventing the bolt traverse and in the upper headwall) as grade X- (hard 8a but mentally highly demanding; e.g., climbing on loose flakes, long runouts). Lama stated that a free repetition of the original Compressor route is virtually impossible (in particular as the rock of the last pitches comprise no climbable features).
Gasherbrum - Der leuchtende Berg, 1985
Director: Werner Herzog
Stars: Reinhold Messner, Hans Kammerlander, W.Herzog
​The most inspiring intimate mountain film ever.
​In ''The Dark Glow of the Mountains'' Werner Herzog and a small film crew accompany Reinhold Messner and his partner Hans Kammerlander to Pakistan in 1984 for the first traverse of Gasherbrum I and II , alpine style, no oxygen.
Herzog interviews Messner asking questions like, "Do you have a death wish?" and "How did you break the news of your brother's death to your mother?," the latter of which causes Messner to break down crying in his tent.
Messner took the actual summit footage. In fact Herzog suffered from altitude sickness at 6,500 metres and had to return to base camp, as broken physically as Messner had been emotionally.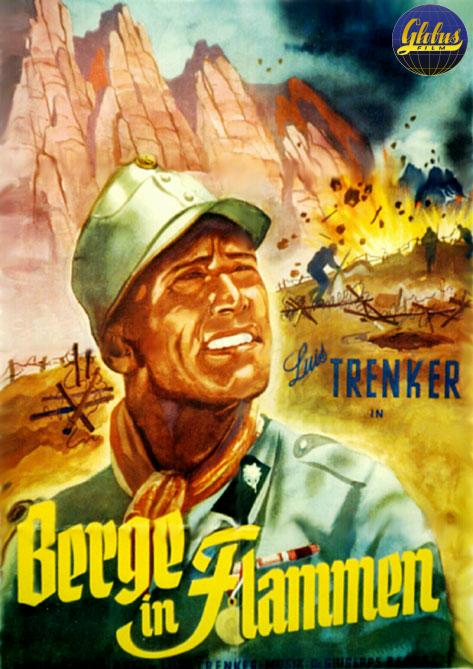 The Old Man of Hoy is a 449-foot (137m) sea stack on the island of Hoy, part of the Orkney archipelago off the north coast of Scotland.
The stack was first climbed by mountaineers Chris Bonington, Rusty Baillie and Tom Patey in 1966. From 8–9 July 1967 television history was made when the Old Man of Hoy was conquered by a team of six on screen, an ascent featured in The Great Climb, a live BBC three-night outside broadcast, which had around 15 million viewers.
This featured three pairs of climbers: Bonington and Patey repeated their original route, whilst two new lines were climbed by Joe Brown and Ian McNaught-Davis and by Pete Crew and Dougal Haston. In 2014 Bonington repeated the ascent to celebrate his 80th anniversary. French climber Catherine Destivelle became known as the Rock Queen after her 1998 climb becoming the first woman to solo climb the stack. With her on the climb was possibly the youngest ever to reach the summit – Catherine was four months pregnant!
Leo Houlding with his tried and tested team of Jason Pickles and Sean 'Stanley' Leary in 2013 made the first ascent of the NE ridge of the majestic 'Ulvetanna Peak' (2931m) in Antarctica, one of the most technically demanding climbs in the world's harshest environment.
The film tells the story of a climber's life long dream reach one of the world's most remote and difficult summits, interweaved with the fascinating story of the mountain itself - which incredibly was only discovered in 1994.
This daring journey is captured by multi-award winner Alastair Lee. The crew experience unprecedentedly good weather but eventually the Antarctic conditions begin to grind them down as they go for the last pitches.

Including interviews from Sir Chris Bonington, as well as Norwegian climbers Ivar Tolleffsen & Robert Caspersen, who first explored the area in 1994.

The Last Great Climb, 2013
Enjoy the award-winning 1985 film "Cumbre" directed by Fulvio Mariani which documents the historic first solo ascent of Cerro Torre in Patagonia via the Cesare Maestri Compressor Route, carried out on 26 /11/ 1985 by Marco Pedrini from Lugano,Switzerland. Born in 1958, Pedrini was one of the leading climbers of his generation. He perished on 16 August 1986, while descending from a solo ascent of the American Direct on Petit Dru.His masterpiece was the audacious solo of the Cesare Maestri Compressor Route, an ascent carried out in a mere 13 hours. At the time Pedrini was 27 years old and, climbing fast and light (no stove, nor bivouac gear, rock shoes for the rock and plastic outers to wear over them for the ice, one 8mm rope and one 6mm rope for the rappels) he reached the summit at 20:30 after having set off from his snow cave at 7:30. A week later Pedrini returned to the mountain with film maker Fulvio Mariani to reconstruct the climb and produce this priceless documentary. The duo ascended Cerro Torre twice more, on 3 and 12 December, capturing this spectacular footage with a 16mm Bolex Paillard spring-wound clockwork camera. Even today the film is recognised as being one of the greatest mountain films of all time.
In the shady campgrounds of Yosemite valley, climbers carved out a counterculture lifestyle of dumpster-diving and wild parties that clashed with the conservative values of the National Park Service. "Valley Uprising" is the riveting, unforgettable tale of this bold rock climbing tradition: half a century of struggle against the laws of gravity -- and society. Peter Sarsgaard narrates.
Directors: Peter Mortimer, Nick Rosen
Starring: Alex Honnold, Yvon Chouinard,Royal Robbins,Lynn Hill,Jim Bridwell,Dean Potter, John Long
At an altitude of 18,000 feet, Alaska's Mount St. Elias is the destination for a trio of mountaineers determined to reach the mountain's summit, and to ski back down as well. Mount St. Elias documents their journey as they trek the fine line between bravery and madness.

Director: Gerald Salmina
Writer: Gerald Salmina
Stars: Axel Naglich, Jon Johnston, Peter Ressmann
Marcel Ichac
1953- FRANCE- COLOR -56 MIN
Record of the French Himalayan Expedition that climbed the first 8000 ever ascended: Annapurna in 1950. The expedition, led by Maurice Herzog, was composed of some of the finest mountaineers at the time (Louis Lachenal, Gaston Rébuffat, and Lionel Terray). Lachenal and Herzog reached the summit without the use of supplementary oxygen. The film is an epic adventure filmed in difficult conditions. It also shows the dramatic way back under the monsoon with Herzog and Lachenal unable to walk because of severe frostbite in hands and feets. The documentary was released in France 1953 only 8 weeks before Tenzing and Hillary conquered Mount Everest.
Victoire sur l'Annapurna, 1953
Das Wunder des Schneeschuhs - Marvels of the Snowshoe (Arnold Fanck, 1920)
Director: Arnold Fanck
Writers: Arnold Fanck, Deodatus Tauern
Stars: Sepp Allgeier, Ernst Baader, Arnold Fanck
A documentary about skiing at the beginning of the century.
Fanck used a special Ernemann camera made in a Dresden factory which allowed shooting at high speeds up to 500 fps.
Having never edited a film before, Fanck turned to the recently made Madame DuBarry by Ernst Lubitsch as a model on how to do the cutting.
Das Wunder des Schneeschuhs ,1920